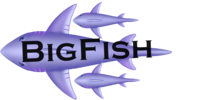 "Big Fish" is a Web Based game. Players can play with a relaxed mood. Simple rules and constant challenges allow each player to reinvent themselves and gain a sense of accomplishment in the game.
How to play: Swipe to control the character to eat low-level creatures, from a small tadpole to a dragon.
Copyright 2022 bigfish.io - Terms of Service - privacy policy
This site is protected by reCAPTCHA and the Google
Privacy Policy
and
Terms of Service
apply.